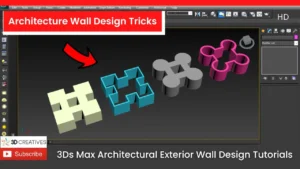 In this Blog post , We will various Types of Architecture wall Design 3dsmax using edit spline
You can follow below steps to Create Architecture wall Design in 3Dsmax with Easy Tricks.
Architecture wall Design in 3dsmax using edit spline
we will Cover following topics :
Attach in edit spline
Boolean in edit spline
Union in edit spline
Substraction in editspline
Easy Steps to Create Architecture Wall Design in 3Dsmax :
You Can Create any types of architecture wall design 3dsmax
1st Step : Create any shape ( Rectangle ) and create another shapes as per your requirement.
2nd Step : Now, You can Attach this all Rectanfle and other overlapped shape.
3rd Step : After Attaching , Now you can Trim or join the shapes using boolean under editspline
4th Step : By using Substraction You can trim the unwanted parts.
5th Step : Use Union to Join all the shapes and now you can extrude it…as per your requirement you can create various types of architecture exterior modeling design in 3dsmax.
You can Follow , above steps to create Architecture wall design in 3dsmax.
Download this Practice file projects from Below
Watch this video tutorials to create " Architecture Wall Design 3Dsmax"